So… just who is Dave Burns
My motto in life has always been to take everything i do in my professional life seriously. Always going above and beyond to deliver what ever i have set out to do.
Every. Single. Time.
I don't, however, take myself too seriously, life's too short for all that kerfuffle x
Anyway… i started young
and never really looked back :-)… except over both shoulders to make sure the coast was clear, obvs 😉
In my mid teens i thought it would be a rather splendid idea to cycle to Lands End from my mum and dads in Harrogate…
After all that… 30+ years of work, work and just a bit more work, seemed to take over (that's what the Hospitality industry does to you) and it wasn't until the passing of my father and a return to Harrogate after nigh on 13 wonderful years in Newcastle, in 2000 that my love affair with cycling was rekindled.
I ran a wee little place called Bed Restaurant for nearly 15 years in HG1 (2002-2016) and in that time i met and married my gorgeous wife, Joanne, had 2 wonderful daughters Molly and Maisie and actually managed to enjoy more and more cycling.
Then i bumped into Mr Guy Kesteven and my bike testing for the national publications began…so you got fancy shots like these …
even Molly B has got in on the photoshoots…
2014 was probably my crowning glory in my life of cycling when the organizers of the ASO Tour de France came to my little restaurant for dinner when they arrived in the UK for the Yorkshire Grand Depart…
       (Bernard Hinault, aka the Badger and 5 times winner of the Tour de France)
Having just had the most surreal night of my life i then spent "that" wonderful saturday on the finishing line where i bumped into …
oh and "them" 😉
since then i've done the 3 peaks Cyclocross three times, with a last personal best of 4hours 44minutes…sub 4.5 this year me thinks
Another proud moment in my life, well there were two of them, getting Molly riding on 2 wheels by age 2yrs and Maisie going solo when she was nearly 3yrs old … "management" has a giggle with us too, sometimes
So my aim is to get similar minded folk out on their bikes, to have fun, stay fit, be safe and simply have a ball
So what's not to love … i want to ride my bike…
do you? xx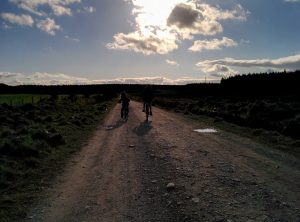 it really is fun all the way home…